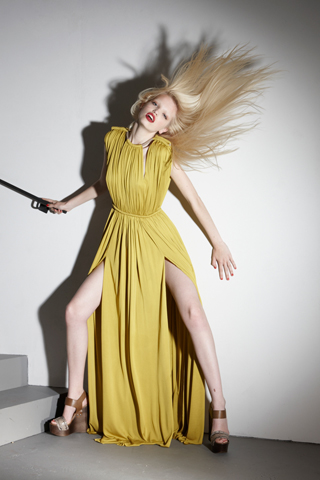 There is INDEED no correlation between a haute couture fashion powerhouse and French cuisine, well, other than the blatant fact that they are both French. But... Yeaaaah.
I just really wanted to write 'Coq Au Vin' in my title really.
Onto the fashion! My favourite looks from the
Lanvin Resort 2012
collection. No one does Paris chic better than true Parisians themselves. I'm loving all the juxtapositions; the model in the yellow dress (
Who looks like Abbey Lee... Or is it just me eyes?)
swathed in such elegance striking a playful pose, the lady in tweed from head to toe whose skirt is micro mini, annnnnd the
gypsy Esmeralda hippie
!
We all know how I feel about hippies by now do we not? If not, I shall be back with my tale of Seyi's virtual hippie life. Soon. Watch this space.
Plus,
Alber Ebaz
is showing some kiddie love in this new Lanvin Kids collection. How adorable!
Such poise from a young 'un! Awww!
Yeah. Enough of the oohs and aahs for now.
Till Laterrrrrr!
xoxo
*P.S All images from fashionologie.com