I know. My onomatopoeic title was very ambiguous until I wrote the bit about weddings, yes? No? Okay...
Yeah. Weddings. This is [supposedly] the day every girl pines for and encapsulates using plastic perfect Barbie and Ken. The tulle. The endless yards of skirt. The hair. The shoes. Okay my Barbie never had shoes, neither did she have a real wedding dress, but my imagination made up for the rest of the imagery I just conjured...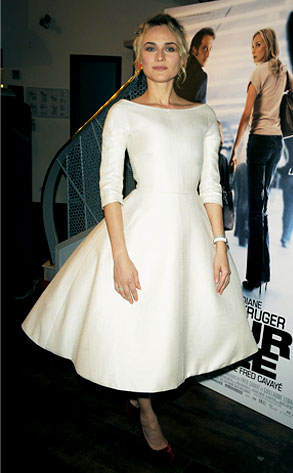 Diane Kruger as the picture of perfection in

Giambattista Valli
Lest I digress again and begin talking about my childhood involvements with the world of Barbie, Shelly, black barbie whose name eludes me now, and Ken, back to the topic of weddings. So, yeah. Turns out, as I've adopted Peter Pan's lifestyle grown up over the years, I have come to the realisation that my fascination with weddings and its condiments (LOL) have pretty much become a non-existent venture. Which worries me. I once tweeted about being more concerned with the size of the kitchen in my matrimonial home than the actual events of my wedding day.
Yeah. I know. Weird? Not at all. I happen to have this connection with kitchens and their fancy appliances. Goodness. You should be in my head when I am conjuring up pictures of 'The Perfect Kitchen'. Tis awesome, I tell you.
Alannah Weston, Selfridges extraordinaire in Christopher Bailey for her wedding. AAAAAAAAAAH!
So, Ladies and gentlemen probably stumbling upon this. The picture above is what has stirred my juices, shall we say, for wedding dresses once again. Just this moment. I picked up May's Vogue, because, you know, as a pharmacist who has TONNES of free time WORK to complete, looking at past editorials just seems a more appropriate way to pass time. Yaahh hunnh. So yeah, I'm looking through the pages, envisioning myself as Alexandra Shulman, because, I mean, so awesome is she - Only to stumble upon Alannah Weston's

wedding dress.
The Lady of Shallot, Alfred Lord Tennyson, inspiration for Alannah's gown...
As someone who is very unhealthily drawn to the vintage aesthetic, suffice it to say that I was transfixed. I know, I know, the dress is not extravagant. Nor has it got yards of skirt, or... what I like to call unnecessary faffery (aka tulle. WHY IS THAT NECESSARY? IT ITCHES!). Hence why I am in love with it! Lace is the way forward yo. And can we also say ayy okayy for her headpiece?
Pre- Raphaelite apparel. Something about the longness and the flowiness (I know, not a word) of their clothes gives me this peace? or sense of serenity? Ohh I don't know...
Yeahhh...
And, speaking of longness and flowiness, how could I forget Diane as Helen of Troy? THE WOMAN WAS A BADASS! Well, her clothes made her more badass than she already is. Yep. The wispy hair, I am going to re-create that on my head for my wedding. Granted, I have an afro, but I will make it work. Just watch me!
If I have a veil, it will look like this. Please God, let it look like this...
Amen.
Now I shall exeunt, so you don't think of me as a mad woman...

It's Fridayyyyy!


Why not listen to a bit o' Becky Black crooning about her pubescent adventures during the weekend?
Aloha!
xoxo